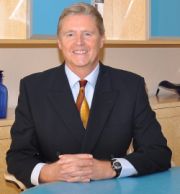 Marcus Conyers is a university curriculum developer and researcher with a focus on practical applications of mind, brain, and education science. He is an author of 20 books, including Five Big Ideas for Effective Teaching: Connecting Mind, Brain, and Education Research to Classroom Practice (Teachers College Press, 2013). New books for publication in 2015 include Positively Smarter: Science and Strategies for Increasing Happiness, Achievement, and Well-Being (Wiley Blackwell) and Mind, Brain, and Teacher Leadership: Leveraging the POWER of Purposeful Collaboration (Teachers College Press). Teaching for Metacognition, with ASCD, and Science and Strategies for Innovating Minds, with Wiley Blackwell, are scheduled to be published in 2016. In addition, he has shared applications of his work in articles in Kappan and Educational Leadership.
Conyers presents at conferences with academic institutions internationally, including Cambridge University in the United Kingdom, Leiden University in the Netherlands, University of Harokopio in Greece, and Florida Atlantic University, University of Central Florida, and Rollins College in the United States. His doctoral research explores processes for improving teaching practice by applying implications of mind, brain, and education science.
Conyers is a member of the International Association for Cognitive Education and Psychology and the American Educational Research Association and of AERA's Brain, Neuroscience and Education SIG. Conyers led three-year initiatives with the Florida Department of Education and with Florida Atlantic University, the latter supported by an Annenberg Challenge Grant Award. Conyers has refined his research-based models for effective teaching by working with thousands of K-12 students and with 100,000 educators and administrators worldwide. His audiences have included ministers of education in South Africa, the United Arab Emirates, and Ontario, Canada. He is a co-developer of the curriculum for the Master of Science and Educational Specialist degree programs with a major in Brain-Based Teaching with the Abraham S. Fischler School of Education at Nova Southeastern University. He serves as Director of Communications for the Center for Innovative Education and Prevention.

marcus@ciep.org
http://www.ciep.org//
941 400 6705
---